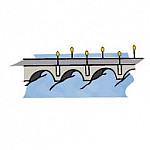 Along with the Blue Bridge, this former rail bridge is one of only two dedicated pedestrian bridges in Grand Rapids.
Some Facts
The Holland/Kalamazoo interurban ran across the original bridge, built in 1915, on its way to the Union Interurban Depot at the east end of the bridge.
The Interurban Depot was demolished in 1931 to make room for the new Civic Auditorium. Its bricks were cleaned by hand and then used to construct the Richmond Park pool house.