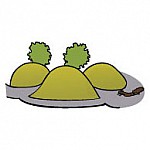 Ah-Nab-Awen Park was originally the site of an Odawa/Ottawa village. It became a Baptist mission known as Thomas Station, which was established in 1824 as part of the 1821 Chicago Treaty.
Centuries before that, this site was the home to several burial mounds of the Hopewell civilization. Replicas of those mounds have been installed in the modern day Ah-Nab-Awen Park. To learn more about the mounds, listen to this stop's audio story.
Some Facts
The mission, estimated to serve about 150 families, lasted until 1836 when the Odawa People were moved off their land and settled west of the Mississippi River.