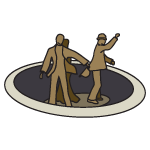 This momument commemorates the great furniture strike of 1911, and celebrates the efforts of working people in the building of Grand Rapids. The Spirit of Solidarity, which was dedicated in 2007, represents a 10 year labor of love by the Labor Heritage Society. It was created by Roberto Chenlo, a former member of the United Brotherhood of Carpenters, with landscape architecture by Gregory Scott
Some Facts
The woman represents the wives of the workers who supported the strike despite personal hardship, she is depicted hiding rocks under her skirt , just as they had done during the one violent outburst of the strike.
The older male figure represents the Dutch protestant who united with his fellow workers, ignoring the attempts by the furniture factory owners to use religion as a method to seperate workers.
The third figure represents the immigrant Catholic workers (Poles, Germans and Lithuanians) who brought values and actions of solidarity with them from Europe.