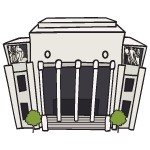 Italian-born stone sculptor Corrado Parducci moved his entire family to Detroit from New York City when he was invited by famed Detroit architect Albert Kahn to collaborate on project. He continued to live and work in that city until his death, taking on various jobs throughout the state and country like this Depression-era public works project. The focal point of Parducci's work on the Civic Auditorium are the square limestone relief sculptures on the top corners of the facade, featuring his interpretation of music on the right and fine arts on the left.
Some Facts
Parducci was the only person who worked on the Civic Auditorium project. The rest of the workers were paid in scrip - a currency alternative used during the depression era.
Inspired by the Art Deco and Greek Revival styles of the time, Parducci calls his own unique interpretation "Parducci Greek"