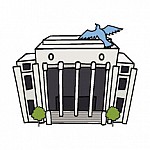 Built on the site of the old interurban railway station, Lyon Plaza has changed considerably over the years. Built as the Civic Auditorium, Grand Rapids' first public auditorium, most recently it's facade has been incorporated into DeVos Place convention center.
Some Facts
George Wilson Welsh was state representative, speaker of the house, and Lt. Governor before becoming city manager of Grand Rapids, from 1929-1932, and its mayor from 1938-1949.
When the Civic Auditorium was renamed for George Welsh after his death in 1974, the tribute was controversial among various groups of citizens.