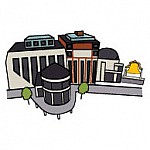 The old Fire Bell was used to call some of Grand Rapids' early volunteer firefighters into action, but was eventually incorporated into City Hall where it helped Grand Rapidians keep track of time.
Some Facts
The organization of three volunteer fire companies were attempted as early as 1844, but they were temporary and makeshift operations and only lasted until 1849.
The preponderance of wooden buildings in the early days made fires commonplace. Major fires occurred every year in the 1870s and 1880s, decades when the city saw tremendous growth.