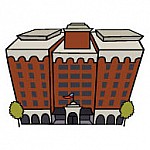 The Amway Grand Plaza is one of Grand Rapids' oldest luxary hotels. A remodel in the early 1980s included the addition of a 29 story glass tower, making the hotel the tallest building in Grand Rapids until the 34 story Plaza Towers was built in 1991. Currently, Amway Grand Plaza's tower is the third tallest building dotting our city's skyline.
Some Facts
The first hotel on the site of the Amway Grand Plaza Hotel was Sweet's Hotel built in 1868, replacing the old saw mill on the river.
The Pantlind Hotel, which followed Sweet's in 1913, had one of the world's largest gold-leaf ceilings in its lobby.