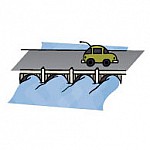 One of two downtown historic concrete arch bridges, the Pearl St. Bridge is a major East-West traffic artery that helps keep Grand Rapids moving across the Grand River. At just under 500 feet in length, this bridge is one of the longest of its kind in Michigan.
Some Facts
Eight bridges, not counting highway bridges, carry vehicle traffic across the Grand River between the North Park Bridge and the Wealthy St. Bridge.
Grand Rapids also had six railroad bridges that crossed the river: two are still in use; two are pedestrian bridges, the Blue Bridge and the Richard Gillette; and two have become part of the rails to trails program.